I know i made the psa but on one of my alts, lario tried to debunk me.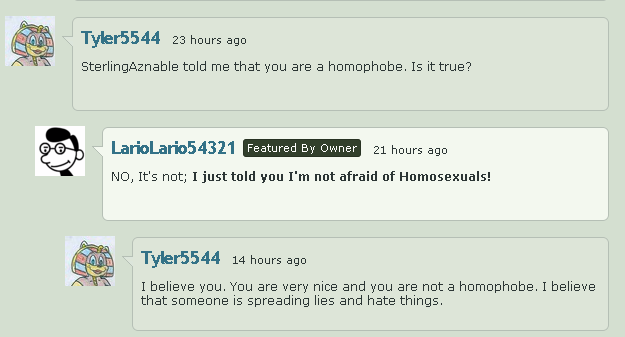 Homophobic doesn't mean that you're afraid of them lario, it means you find it disgusting.
I wouldn't have found out about this if you had accepted criticism so ultimately, that was your downfall.
Side note, tyler i'm not spreading lies i'm spreading facts this may count as hate, but only because of you're homophobic attitude, and one more thing.
Don't fucking disrespect Monty Oum, prepare to rage RWBY fans/anyone who is a decent human being.

Think that's it?
Nope.


I think my discord friend said it best.

I'm just gonna leave this here, it's the original PSA i did.

LarioLario54321 PSASo today i'm gonna put some info out there on

LarioLario54321

He's homophobic and creates mary sues and gary stus.
Not just that, but he hates criticism.
He also has called users disgusting for their sexuality and
this
Edit:
More proof, i'll hold onto some more until necessary.
Edit 2: if one of you could send this psa to him that'd be great i wanna get even more proof, it'd be funny too
Edit 3: mention i'm bi btw